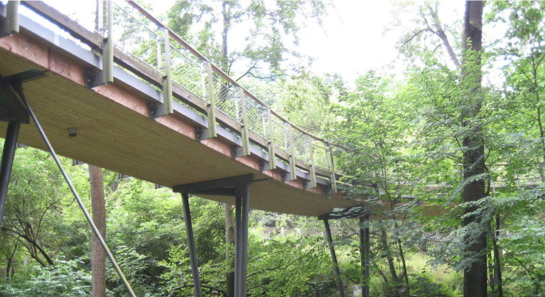 On the last beautiful weekend in October Evelyn and I took a short walk through the forest-botanical garden Tharandt, of the Technical University of Dresden, in hopes of seeing a marvelous autumn colouring of the trees, which was also fulfilled.
This forest garden with its enormous world-wide tree population has been in existance since 1811, in an idyllic valley in the location Tharandt, close to Dresden.
Within the forest garden an elegantly swung footbridge spans a valley. Noteworthy for its construction, it has also received national and international architecture prices. The special feature of this bridge is also that it is built of approx. 100 m³ wood.
Concerning this, I found on a display board the following interesting text under the heading "Trees and Global Change":
"Considering the current upward trend of the carbon dioxide content of the atmosphere, using carbon-dioxide-fixing trees to slow down global warming seems like an interesting idea. However we must not forget that the carbon dioxide is only bound for as long as the tree is alive. Fast-growing tree species can fix a relatively high amount of carbon dioxide for a short period (10 till 20 years), whereas species that grow more slowly bind less but for a longer period.
A more efficent way of fixing carbon dioxide is using more wood in construction. The carbon dioxide remains bound in the wood for as long as the building lasts.
Using wood, a sustainable raw material, thus also contributes to preserving the enviroment."
This idea of the long-term binding of carbon which could be realised was also new to me. I find it very interesting and important for our environment.
[Hartmut Losse, Pirna/Germany]